Good copy starts with understanding how your product or service helps your customers. Simple words communicate better than big words and pompous language.
Yoga & Meditation: The Key To Corporate Health & Wellness
The workplace can be the largest source of stress for employees. While stress is inevitable, many companies can help their employees manage stress and even become more productive by offering meditation and yoga programs. Research indicates that employees who took part in yoga and mindfulness exercises, techniques, and activities had a nearly 30% decrease in their stress levels and a 20% improvement in their sleep quality. Reduced stress and better sleep have a huge impact on employees' performance and healthcare plans.
However, most wellness programs fail to meet their goals because they lack a holistic approach, leading to wastage of time, money, and resources. By incorporating the scientifically-proven yoga and meditation classes, you can create a winning workplace wellness program that revives and sustains employee wellness on a long-term basis. So, yoga and meditation is a crucial component of your corporate wellness program.
Our Yoga & Meditation Programs
At Progno Health, we offer a wide range of yoga & meditation classes with welcoming choices of class timings, locations, and types of yoga. From beginners to the most advanced practitioners, we cater to all levels of attendees. Our different types of workplace yoga and meditation programs include:
Yoga & Fitness Classes
Yoga Boot Camps
Mindfulness Skills Training
Mindful Movement
Guided Meditation Sessions
1. On-site / Off-site Programs:
We offer on-site and off-site live programs for assisted yoga and meditation in the following ways:
 One-to-one on-site/off-site session
One-to-group on-site/off-site session
 Online session
2. Team of Expert Instructors:
Our corporate yoga & meditation classes are conducted by some very senior and industry-recognized yoga teachers and meditation experts who ensure a high-quality experience for all attendees.
3. Engaging & Innovative Sessions:
Yoga doesn't have to be serious and boring! So, we make our sessions more fun, humorous, and playful through engaging music and ambient lighting, leaving attendees feeling relaxed, refreshed, and de-stressed.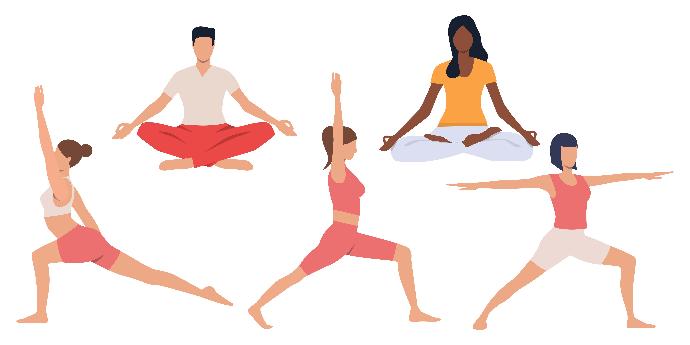 Improved physical fitness and strength
Improved balance, posture, and alignment of the body with increased mobility and flexibility
Reduced pain, stress, fatigue, mild depression, and anxiety
Improved focus, concentration, and clarity of work
Reduced health risks
Improved physical & mental health, overall wellbeing, and quality of life