Health Talks & Wellness Webinars
Healthy and productive employees are your company's greatest assets, and so, employee health is paramount for corporates.
Corporate Health & Wellness Talks and Webinars:
Healthy and productive employees are your company's greatest assets, and so, employee health is paramount for corporates. Most employee issues, such as absenteeism, lack of engagement, and productivity, are all related to underlying health problems, which they may not be aware of. Moreover, due to hectic schedules and long working hours, employees may not always have the time to think about their health, diet, and lifestyle. Therefore, health literacy is critical.
With employees spending a significant amount of their awake time at work, we believe that the workplace is the perfect spot to impart the right information to employees and facilitate sustainable lifestyle changes for a healthier workforce. Workplace wellness initiatives are proven to benefit both employees and employers with measurable improvements in health and productivity. To facilitate this change, we organize several face-to-face health talks, workshops, seminars, and webinars with experienced health professionals, SMEs, healthcare specialists, and health coaches.
At Progno Health, we offer a wide range of interactive and engaging corporate wellbeing services
Lifestyle Diseases
Chronic Disease Prevention & Management
Stress Management
Diet & Nutrition
Emotional Wellbeing
Mental Health
Employee Mood & Motivation
Work-Life Balance
Ergonomics
Physical Fitness & Exercise
Yoga & Meditation
Smoking Cessation and Alcohol Abstinence
Top Health Topics We Cover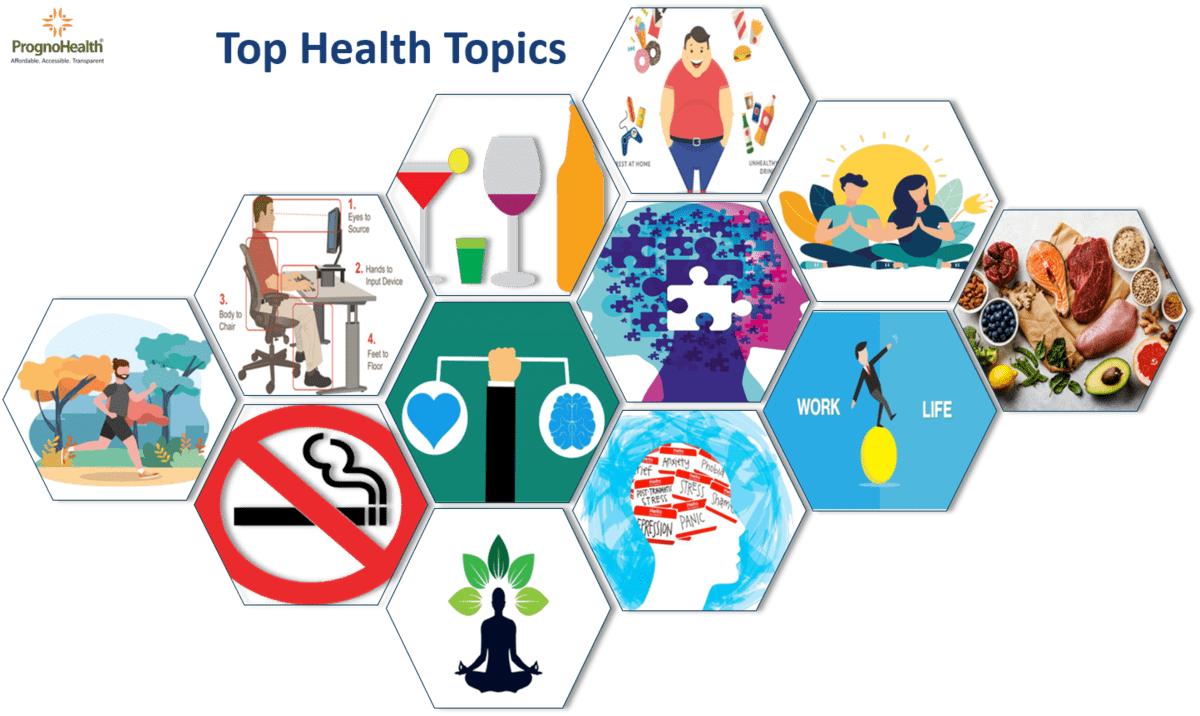 Benefits from Corporate Health Talks and Webinars:
Health programs aim at empowering your employees to take better control of their health and wellness through dietary and lifestyle changes, without having to take any time off from work. In other words, we conduct wellness talks and webinars with the core idea of changing the mindset of people to adopt new healthy habits and minimize current unhealthy behaviors.
Optimized health for each employee
Reduced absenteeism
Improved energy levels and focus
Improved employee engagement and job satisfaction
Increased productivity
Reduced medical costs
A happier and healthier workforce
Tailored Health Programme to Suit your Employee Needs
At Progno Health, we can help you choose a topic or even make suggestions on how to draw maximum benefit from your event. Other than our standard list of health programs, we can adapt our services to develop new wellness initiatives based on your specific requirements, for example, Weight Loss or Weight Management.
Our sessions are not just power-point presentations! We make them highly interactive, covering both theoretical and practical aspects. Our programs help employees understand the importance of balancing their physical, mental, and emotional health.
Home-Based Corporate Wellness Programme:
When on-site corporate talks are not viable, we can offer home-based solutions. If your employees are working from home and have access to the latest web-based video conferencing facilities, then we offer all our seminars as webinars.
If you are a corporate looking for a fun and educational health talk or a webinar, then contact PrognoHealth. We have a wide range of wellness services offered by different providers.
Call us on +91 9510650660to know more about our health talks and webinar services and schedule a session today!
Slide
"The webinars were engaging and informative, and our employees were able to gain valuable insights into various health and wellness topics"

Slide
"The speakers are knowledgeable and experienced, and they delivered the content in a way that was easy to understand and apply in real life"

- Head of Human Resource Team
Slide
"The webinars were very interactive, which helped to keep our employees engaged and interested throughout the session"

Leading Manufacturing Company
Slide
"I recently had the pleasure of using Progno Health's Wellness Webinar services, and I must say I was thoroughly impressed.

Slide
"Overall, I would highly recommend Progno Health's Wellness Webinar services to any company looking to promote health and wellness among their employees".

-Employee Engagement Team Member